Rates: $0 – $0
Address: 19/23 Lam Son Square, Dist. 1, Ho Chi Minh City, Vietnam
Hotel Class: 

Well-trained staff, friendly services
Afive-star hotel with full friendly services, well-trained staff and modernamenities.
Centrally located in the downtown of Ho Chi Minh City. The hotel is easilyaccessible to other districts and the business, shopping, entertainmentcenters.
The Caravelle was designed with European style andcombined 2 buildings together, the original 10-floor Caravelle and 24-floortower added in 1998. The hotel with splendid chandeliers and a perfect symmetryincluding a roof top open-air bar with magnificent 360-degree panoramic viewsof the city. With the well-trained staff, charming hospitality and friendlyservices, guests will feel comfortable and enjoyable when staying in the hotel.
It is convenient for you to travel from the hotel, itis only 7 kilometers from Tan Son Nhat Airport with 15 minutesdrive, and 3 kilometers from the railway station.


All guest rooms are supplied with modern amenities:
–        Individualcontrolled air-conditioning
–        Satellite TV withinternational channels
–        Private en-suitbathroom with bathtub and shower
–        Hair-dryer andrefrigerator
–        Safe deposit boxin room
–        Tea/coffee makingfacility
–        Inter-connectingrooms and DVD in room (Except Deluxe room)
–        Electronic roomkey system
–        Mini-bar andguest modern elevator
–        High speedinternet in room
–        Availablenon-smoking room and smoker detector
Deluxe: 38m2 with King size or twin bed andspectacular view on city or river
Premium Deluxe: 42m2 with extra-large King bed rooms,comfortable sofa-living and panoramic view on city
Signature Deluxe: 38m2 with King size or twin bed, SignatureLounge, and view on city or pool
Signature Premium Deluxe: 42m2 with King size bed and panoramicwindows at Signature floor
Executive Suite: 104m2 with King size bedroom, livingdinning area, and kitchen02 Bedroom Suite: 136m2 with King size and twin bed, livingdinning area, and kitchen
Presidential Suite: Largest area of 180m2 with King sizebedroom, Jacuzzi, and living-dinning-terrace
Room Amenities
– Bathtub with Shower
– Coffee and Tea Making Facilities
– Internet Connection / Laptop port
– IDD Telephone
– In-Room Safety Deposit Box
– Satellite TV
Guests to the Caravelle need not go far to immerse themselves in an array of mouth-watering cuisine as well as refreshing beverages. Menu ranges from international specialty buffets of the Port Orient Restaurant to the fusion of gourmet food at the Asian Reflections Restaurant. Guests can enjoy light drinks with a view by simply strolling over to the Lobby Lounge or the Pool Bar for light snacks. For a perfect combination of live music, city views, good food and relaxing drinks, the Saigon Saigon Bar is the place to be, offering al fresco dining at its liveliest.
Perfect for the fitness buff or for those simply looking to indulge, the hotel's well-equipped health club, spa and fitness centre are the ideal venues to work up a sweat or pass the time, not mention the hotel's inviting tropical lagoon pool.
Meeting facilities good for up to 600 persons as well as a business centre providing secretarial support and high-speed Internet access round up the Caravelle's array of offerings.Armani Beauty Center also supplies with the mosthealthy and safety facilities in the gym. We provide the full healthy guaranteefor visitors with effective treatment and a garden pool. When coming to thehotel, you will be served with amidst lagoon palms at 7th storey,and tanning or cooling in the large serene pool.
Restaurant
The hotel has operated Nineteen Restaurant in the right lobby with the special dishes, snakes; the Port Orient Restaurant with the international buffet; Lobby Lounge with light aperitifs; Asian Reflections with a unique fusion menu; Saigon Bar with the tuneful sensation of environment and best view of the city's skyline
Meeting & Banquet
Banquet Facilities:
The Caravelle's carte de jour is the foremost in Ho Chi Minh City. The choice is yours from fine dining, Devonshire Teas, a standing cocktail party to a culturally inspired smorgasbord. Our international and widely acclaimed chefs create perfection daily, and will work with you to achieve the levels of excellence your function deserves. Choose from The Caravelle Hotel?s selection of function rooms: ranging in size from the personalized Boardroom, to the capacious Caravelle Ballroom that can comfortably accommodate up to 600 hundred persons.
Conference Facilities:
The Caravelle is the premium venue for conferences of any scale, whether for product launches, international meetings or a gathering of corporate bodies. Unique in style and flavor, purpose and poise, a conference at the Caravelle will focus on your unique needs. With a wealth of international experience at your disposal, your highest expectation will be exceeded. Let our experienced and dedicated staff take care of all the logistical elements of your conference, leaving you to host the most successful and memorable conference, reflecting on a job well done, and all the aims of your meeting met.
Meeting Facilities:
With an increasing number of Incentive Planners choosing The Caravelle, the team here is confident in its ability to meet your highest expectations in the highly competitive world of Incentive business. Whether you need the finest facilities for 10 persons or 250, you will receive the attention you and your clients deserve. We will not be satisfied with mere pledges. We recognize that our service reflects on you the organizer, and you will not be disappointed. An incentive with the Caravelle defines new boundaries of sophistication, elegance and satisfaction.
Sport & Leisure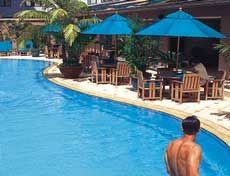 Pool Side:
The place to find a little slice of the tropics. Our outdoor pool sets amidst lush lagoon palms and seven storeys above Ho Chi Minh City's hustle and bustle, our large free form pool is a serene oasis for a perfect tan or a cooling swim.
Health Club:
Make your body the best that it can be at our modern and fully equipped gym with our personal trainers attending to your every need. Or for the more body conscious, join one of the swimming or aerobic classes. Pamper yourself at the Spa with a relaxing massage and a quiet repose in the Relaxation Lounge. For optimum privacy and comfort, the Caravelle Club offers separate saunas, steam rooms and Jacuzzis for men and women- everything you need to tone you body and mind.
Armani Beauty Centre:
Surrender all your beauty requirements to the expert staff at Armani Beauty Centre. The renowned beauty centre is one of the foremost in Ho Chi Minh City and offers an incomparable selection of beauty treatments from hair styling, manicures, pedicures, nail art, skin care to beauty massages.
Hotel amenities
-Business centre
-Tour desk
-Doctor on call
-Laundry & Dry Cleaning Service
-Non-smoking Rooms
-Baby-sitting service
-24 hour room service
-Swimming Pool
-Express Check-in and Check-out
-Breakfast 06:00 – 10:00 hrs
-Tea & coffee Service 06:00 – 23:00 hrs
-Evening cocktails & canapes 17:00 – 19:00 hrs
-In room high speed Broadband Internet connection
-Fitness Centre
-Business Services
Policies
* Please note that rates are applicable for single and double occupancy
* Rates are subject to 5% service charge and 10% service VAT
* Deluxe categories- buffet breakfast can be included with room rates for an additional US$20 excluding service and VAT charge
* All rooms on Signature Floors include American Breakfast in the Signature Lounge (for single and double occupancy)
* All rates are subject to change without prior notice
Check-in time is 2:00pm and check-out time is at 12:00pm
* Additional beds will incur a charge of US$45.00
* No shows and cancellations within 24 hours of arrival will incur a charge equivalant to 1 night's quoted room rate
* Children under 12 years old accommodations are complimentary